Veneers have come to be known as "instant orthodontics." They can correct a wide variety of problems from chipped teeth, to irregular spacing, to discoloration and can reshape your smile.
Veneers are plastic or porcelain coverings for the fronts and sometimes the tops of your teeth. We bond these coverings to your teeth, so you can improve the look of your teeth while maintaining the existing structure they provide.
There are different stages to installing veneers, which require multiple visits. First, we'll prepare your existing teeth by shaping them and making them rougher, which will help create a better bond. During this visit, we'll discuss what you want to accomplish with the veneers and take impressions of your teeth, which we'll use to craft them. We'll also apply a trial set of veneers to make sure they'll achieve the look and feel you're seeking.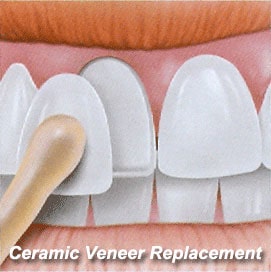 When your custom veneers are ready, we'll get you back in to clean and polish your teeth and let you try on the veneers. Once we make sure you're happy with them, we'll apply an adhesive to your teeth, put the veneers in place, and use a special light to harden the adhesive.
The result is a firm bond that will keep the veneer in place as you chew and go about your daily grind. They'll feel like your natural teeth but will look much better. They're also hard to stain, so you can look forward to a whiter, brighter smile for years to come.